Pyongyang fires missile ahead of US-South Korea military drills
North Korea had warned of an 'unprecedented' response to allied exercises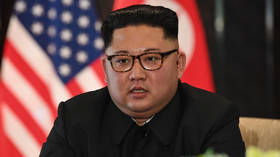 North Korea has fired a long-range ballistic missile from its east coast into the sea according to the South Korean military, a day after warning Washington and Seoul that it would issue a "strong" response to upcoming military exercises between the two allied nations.
Seoul didn't immediately report where the missile landed, but Japan's vice minister for defense, Toshiro Ino, said it was estimated to have splashed down in waters around 125 miles to the west of Oshimo Island off the coast of Hokkaido, inside Japan's exclusive economic zone.
According to Japan's Prime Minister Fumio Kishida, Tokyo is maintaining close dialogue with Seoul and Washington following the incident, which he described as "an act of violence that escalates provocation towards the international order."
Figures from within the South Korean military said the long-range weapon was fired from an area in Sunan, where Pyongyang International Airport is located, at around 5.22pm local time on Saturday.
The launch, which was North Korea's first since January 1, comes a day after Pyongyang issued a stern rebuke to the announcement of upcoming military drills involving South Korea and the United States.
The DPRK vowed an "unprecedentedly persistent, strong" response to the collaborative drills planned for the coming weeks. Pyongyang has previously referred to such exercises as a "dress-rehearsal" for a full-scale invasion.
The military drills, which are due to take place over the coming weeks, will feature computer-simulated responses to North Korean nuclear threats, as well as live-fire training and expanded field exercises.
Pyongyang's ballistic missile and nuclear programmes are outlawed under resolutions of the United Nations Security Council, but the North Korean leadership has maintained that weapons development is a necessary deterrent to oppose Washington's "hostile policies".
The North Korean military tested a record number of intercontinental ballistic missiles (ICBMs) last year, which it claims are capable of striking anywhere within the United States. The country also passed a law last year which authorizes the launch of pre-emptive nuclear strikes under certain conditions.
You can share this story on social media: