White House to hold 'secret' talks with Taiwan officials – FT
The Asian island's foreign minister and national security adviser will reportedly visit Washington while a US delegation travels to Taipei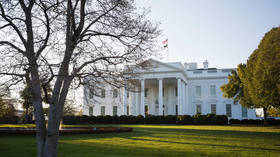 A Taiwanese delegation that is reportedly set to arrive in the US over the weekend will take part in "secret talks" with White House officials, the Financial Times has claimed, citing anonymous sources.
According to the outlet, the meetings will be part of a special diplomatic dialogue intended to remain private so as to avoid provoking a reaction from China, which considers Taiwan part of its territory. The Taiwanese delegation will reportedly be led by Foreign Minister Joseph Wu and National Security Adviser Wellington Koo.
FT sources claimed the delegation will be hosted by US Deputy National Security Adviser Jon Finer as well as Deputy Secretary of State Wendy Sherman.
The existence of the "longstanding diplomatic channel," first reported by the Financial Times two years ago, has not been officially confirmed or denied by either US or Taiwanese officials. Nonetheless, the outlet claims that the format is being used to address security issues amid Beijing's increasingly "assertive" stance around the self-governing island.
Meanwhile, the US is said to have sent several of its own delegations to Taiwan, despite heightened tensions between Washington and Beijing. The Pentagon's top China official, Michael Chase, arrived on the island on Saturday to meet with counterparts in the Taiwanese government, according to several media outlets. Neither Washington nor Taipei have officially confirmed the trip.
Additionally, a congressional delegation led by California Representative Ro Khanna is planning a trip to Taiwan over the weekend, with the intended purpose of "bolstering ties between Silicon Valley and the Taiwanese semiconductor industry," according to Khanna's office.
Continued contact between American officials and representatives of the Taiwanese government has long been a hot button issue for Beijing, especially after former US House Speaker Nancy Pelosi made a trip to the island back in August. China insists that Taiwan is part of its sovereign territory under the "One China" policy, and has repeatedly demanded that foreign nations maintain no direct ties with Taipei and avoid granting legitimacy to the island's government.
Nevertheless, Washington has proceeded to arrange numerous meetings with Taiwanese officials and continues to greenlight arms sales for Taipei's military. On Thursday, Beijing imposed sanctions on US arms manufacturers over the deals.
You can share this story on social media: