US social justice warrior outed as race impostor – media
She's "white as the driven snow," the activist's mother has told The Intercept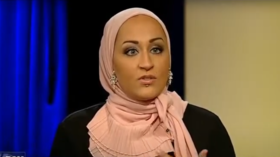 A woman who rose to prominence in the US social justice movement, landing a job as chief equity, inclusion and culture officer with a left-wing activist group, has reportedly misrepresented her ethnic background for years, hiding the fact that she's white.
Raquel Evita Saraswati, a Muslim LGBTQ activist and senior staffer at the American Friends Service Committee (AFSC), has claimed for years to be of Latina, South Asian and Arab descent. The Intercept reported on Thursday that those claims are now being questioned by other AFSC members, who fear that she's working on behalf of groups that seek to undermine her organization.
Saraswati was born Rachel Elizabeth Seidel, according to her mother, Carole Perone. Her parents are both of European descent.
"I call her Rachel," Perone told the Intercept. "I don't know why she's doing this."
"I'm as white as the driven snow, and so is she," added Perone, who shared photographs of her daughter with the media outlet but asked that they not be published. The Intercept said Saraswati's complexion in the pictures was far whiter than the bronzed look she's had in recent years.
Perone also shared her Ancestry.com profile and a photo of Rachel's late biological father. The Intercept said another relative confirmed that Saraswati is white.
"I'm German and British, and her father was Calabrese Italian," Perone said. "She's chosen to live a lie, and I find that very, very sad."
Saraswati has served on mayoral commissions on LGBT affairs in Philadelphia, according to her Linkedin profile. She didn't respond to the Intercept's requests for comment. She posted a Twitter message on Thursday, saying, "Still have Covid. Please bear with me on response delays."
If the allegation against Saraswati is true, she would be following in a long line of leftist US activists who were exposed as race impostors. Perhaps the most infamous was Rachel Dolezal, who claimed to be black and resigned as an NAACP chapter leader after her parents told the media that she was white in 2015.
Oskar Pierre Castro, who served on the AFSC search committee that hired Saraswati in 2021, told the Intercept that she presented herself as a "queer, Muslim, multiethnic woman." He added, "It really touched all the points… I feel deceived."
You can share this story on social media: