Germany needs military draft – reservist leader
Defense Minister Boris Pistorius has also hinted he supports reintroducing conscription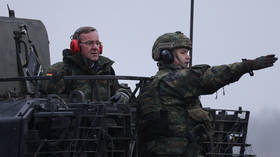 Germany's ability to defend itself is at risk unless it reintroduces compulsory military service, Patrick Sensburg, the leader of the Bundeswehr Reservist Association, told local outlet Neue Osnabruecker Zeitung on Thursday.
The task of national defense "requires different material and a lot more staff" than the Bundeswehr currently commands, Sensburg said, arguing that even the most well-intentioned government efforts to fill in the gaps "will not work without conscription."
He suggested that an active force of 350,000 soldiers and 1.2 million reservists would be required to adequately protect Germany. The country currently commands just over 183,000 soldiers, down from 317,000 two decades ago, and 100,000 reservists – 30,000 of whom train regularly.
"Germany needs a strong military that is well-trained but also has many reservists from all walks of life," Sensburg told Deutsche Welle earlier this month. "We can only ensure that if we have compulsory military service." A member of the Christian Democratic Union, he was the only lawmaker in his party to vote against the suspension of the draft in 2011.
Alternative for Germany (AfD) MP Ruediger Lucassen agreed with the reservist leader, telling German outlet Junge Freiheit on Thursday that the Bundeswehr was "not capable of national defense because of its lack of personnel." Those comments came after the AfD parliamentary group proposed a motion to discuss reintroducing conscription in the Bundestag next month.
Defense Minister Boris Pistorius has called Germany's decision to end military conscription a "mistake," suggesting in a recent interview with Suddeutsche Zeitung that it obliterated the population's sense of "awareness that they themselves are part of the state and society."
Bringing back compulsory service would restore "connection to civic society at large" for an alienated young population, he insisted, while admitting that reintroducing the draft would have little if any immediate benefit to Germany.
A poll published Thursday by environmental advocacy group Greenpeace, cited by the DPA news agency, showed 50% of Germans oppose general conscription for men and women.
Meanwhile, nearly 500,000 Germans have signed a petition drafted by Die Linke (Left Party) politician Sahra Wagenknecht, urging Chancellor Olaf Scholz to stop providing Ukraine with weapons and to lead peace negotiations in order to prevent escalation into nuclear war.
You can share this story on social media: