US auditors headed to Ukraine – WSJ
The State Department, Pentagon and USAID want to put inspector boots on the ground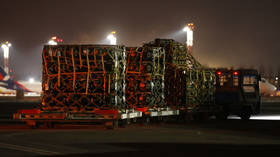 After sending $110 billion worth of military and financial aid to Ukraine for a year, the US is making plans to send auditors and inspectors to Kiev so they don't have to rely on second-hand reports, the Wall Street Journal reported on Friday citing Pentagon, State Department and USAID officials.
The inspectors-general from the three respective agencies told the outlet that so far, oversight was conducted using staff in Poland and Germany. After going to Kiev last month and meeting Ukrainian officials, they decided to send some of their 177 auditors and investigators into Ukraine itself.
The trio met with Ukraine's prime minister, ministers of defense and finance, and the prosecutor general, Defense Department IG Robert Storch told the Journal, adding that they emphasized the US "expectations for accountability, and also the importance of cooperation with our oversight work."
Diana Shaw, deputy IG at the State Department, said the US has given Ukraine "an incredibly large amount of assistance" in a "very short time" and that "Any fraud, waste, abuse that would divert that funding from its intended purpose risks jeopardizing the continued flow of that assistance."
The US Congress appropriated more than $113 billion for aid to Ukraine in 2022. In addition to pricey weapons systems and ammunition, Washington has sent Kiev cash so the Ukrainian government can continue to operate. To monitor this flow, the Journal revealed, Washington has relied on staff in nearby countries, the small staff of the US embassy in Kiev, EU officials in Ukraine, and World Bank personnel.
"I think we have been as creative and you know, out of the box, forward-leaning with the oversight we've been able to accomplish so far. But for real comprehensive, robust oversight, it can't be done remotely," said Nicole Angarella, acting deputy USAID inspector general.
Shaw explained that the Kiev trip was intended to "assess whether we felt that we needed to have an on-site presence in-country. And so coming back from that trip, I think we feel that we do and so we're now in the process of pursuing that."
The inspectors have "thus far received no reports of major fraud or illegality" regarding the US aid, according to the Journal. President Vladimir Zelensky's recent purges of Ukrainian officials as part of an anti-corruption campaign had nothing to do with US aid, they insisted.
While Storch and Shaw are mainly concerned with the military aid, Angarella is primarily concerned with more than $20 billion the US is sending through the World Bank to pay the salaries of Ukrainian government officials.
Cash payments are "the greatest risk for oversight," she said. "Cash is fungible, and, you know, is always at a higher risk." According to Angarella, USAID has assessed that "proper controls" were in place to detect any misuse of funding.
While both the ruling Democrats and the leadership of the opposition Republicans maintain the most important thing for the US to do is continue funding Ukraine "for as long as it takes," recent polls have shown Americans growing tired of the ever-increasing aid to Kiev while problems mount at home.
You can share this story on social media: