Bellingcat director 'banned' from BAFTA awards
Police allegedly told Christo Grozev that he and his family posed a public security risk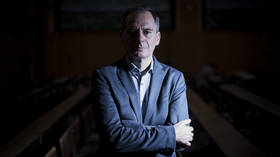 Bulgarian activist Christo Grozev has reportedly been barred from the upcoming British Academy of Film and Television Arts (BAFTA) awards in London after he was deemed a security risk.
Writing on Twitter on Friday, Grozev said he was "surprised to discover that my whole family and I have all been banned by British police from attending this weekend's BAFTA awards where the documentary 'Navalny' is nominated."
The journalist, who serves as Bellingcat's director and lead Russia investigator, took part in the creation of the CNN-produced documentary, which focuses on jailed Russian opposition figure Alexey Navalny. The film has also been nominated for an Academy Award for 'best documentary'.
Grozev claimed that the explanation he was given for the ban was that he and his family "represent a public security risk."
"I understand the need to keep the public safe (although I don't understand how my son or teenage daughter constitute risk to the public). But moments like this show the growing dangers to independent journalists around the world," he wrote.
In July, Grozev was accused by Russia's Federal Security Service (FSB) of working with Ukrainian intelligence services and NATO in an attempt to recruit Russian pilots. According to the FSB's Center for Public Relations, Grozev took part in an operation to "hijack aircraft of Russia's Armed Forces" by offering pilots money and guarantees of EU citizenship, in exchange for landing Russian aircraft at Ukrainian-controlled airfields.
The activist denied being an operative for Kiev, but admitted he was involved in the story as a filmmaker as his Bellingcat team was making a documentary about the "wackiest counter-counter-intel operations of all time."
Grozev has been placed on the FSB's federal wanted list, while Bellingcat has been designated a "foreign agent" and banned for posing a "threat to the security of the Russian Federation."
You can share this story on social media: