US governor trolled with Zelensky image
Donald Trump Jr. suggested Ohio's Mike DeWine should have dressed up as the Ukrainian leader to secure disaster assistance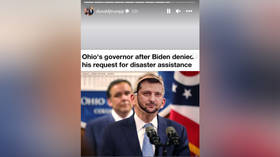 Former US president Donald Trump's son, Donald Jr, has shared an image trolling Ohio governor Mike DeWine for failing to secure disaster assistance from the Biden administration, following a catastrophic train derailment that spilled hazardous materials near the town of East Palestine.
In the image, originally posted to Instagram by an account with the handle that_southern_dude, the governor is illustrated wearing a mask of Ukrainian President Vladimir Zelensky with the caption: "Ohio's governor after Biden denied his request for disaster assistance."
On Thursday, the Biden administration turned down a request for federal disaster aid from the state of Ohio, stating it was not eligible for help as the incident does not qualify as a traditional disaster, such as a tornado or hurricane. That's while the US continues to spend billions of dollars on military assistance to Ukraine.
Last week, a 150-car train carrying ten cars of hazardous materials derailed, allegedly due to mechanical issues involving a rail car axle and emergency brake failure. As a result, a significant quantity of chemicals, including carcinogens, spilled into the air, water and soil.
Norfolk Southern, the train's operator, then initiated a controlled release and burnoff of the highly toxic gas vinyl chloride from one of the cars, stating that failure to do so would have turned the derailed train into a "bomb." One issue with burning vinyl chloride, however, is that the process turns it into hydrogen chloride and phosgene, a chemical weapon used in World War I.
Although authorities in Ohio's East Palestine village have already lifted the initial evacuation order and declared the area safe, a number of residents have complained of alarming physical symptoms, as well as dead pets, livestock, and fish. The Environmental Protection Agency has also pointed out that the water in the area remains unsafe to drink, despite state officials claiming the contrary.
At least five lawsuits have so far been filed against Norfolk Southern over the derailment and failure to properly dispose of contaminated soil, following the leak of toxic butyl acrylate into the Ohio River, which supplies drinking water to about 10% of the US population.
Meanwhile, after over a week of silence, the US Transportation Secretary, Pete Buttigieg, who is ultimately in charge of all the country's railroads, refused to take responsibility for the incident on Wednesday and shifted the blame for the toxic train disaster to the Trump administration.
You can share this story on social media: