'Falling tail' issue grounds entire fleet of US Air Force tankers
A faulty component has led to concerns that the refueling aircraft can sustain damage mid-flight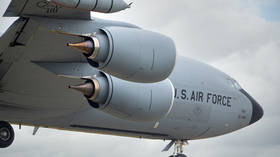 The United States Air Force has grounded hundreds of its decades-old KC-135 tankers, over concerns that a critical flaw could lead to their tails becoming separated from the fuselage mid-flight. Inspections have revealed that two dozen aircraft have so far been found to be affected by the fault.
Washington ordered a widespread inspection of the fleet of tankers on Tuesday for a "non-conforming part in the vertical tail assembly." The part pins an aircraft's tail fin – its vertical stabilizer – to the rest of the fuselage.
"We're taking this action out of an abundance of caution, after consulting with our engineering experts," Col. Michael Kovalcheck of the US Air Force's Life Cycle Management division said this week.
A memo leaked earlier this month first revealed that the aircraft may have faulty pins installed. This followed an analysis conducted in January, which found that several discrepancies had been detected in pins installed in the aircraft's tail during routine repairs.
"Should one pin fail, the other would not be able to carry the remaining load and the vertical stabilizer would depart the aircraft," the memo said.
As of last Sunday, 24 aircraft were found to have faulty pins installed, following inspections of 90 planes. More than 200 KC-135 aircraft are thought to be impacted by the issue. Planes which passed the examination have been cleared to fly.
Air Force Materiel Command will also conduct inspections into RC-135 reconnaissance planes and WC-135 Constant Phoenix radiation-sensing jets for similar tail-pin flaws.
The US Air Force has been attempting to replace the KC-135 for at least two decades, although the size of the fleet has meant that they have had to do so gradually. The refuelling aircraft was first issued in the 1950s and was used extensively in the Vietnam War and Operation Desert Storm in Iraq to extend the range of US bombers.
Active duty KC-135s are currently stationed at numerous bases in the United States, as well as abroad at RAF Mildenhall in England and Kadena Air Base in Japan.
You can share this story on social media: