Pentagon to help troops get abortions
US military officials have unveiled special benefits for service members who want to terminate their pregnancies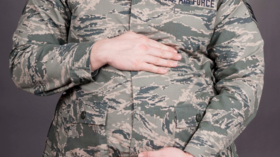 The Pentagon has taken steps to ensure that troops have easy access to abortion, offering ample time off and fully funded travel for service members who are stationed in states that banned the procedure in the wake of last year's US Supreme Court ruling on Roe v Wade.
Department of Defense officials revealed the special benefits on Thursday, saying troops who have to go out of state for an abortion will get up to three weeks of leave, and allowances to cover all travel costs. US military branches have 30 days in which to enact the new policies.
Service members cannot control where they are stationed, a senior defense official told Military Times, and the new policies are designed to alleviate any potential impact on their "access to essential health care." The official expressed hope the move "will help ensure long-term that we're able to recruit, retain and maintain the readiness of a highly qualified force."
The issue surfaced last summer, when the nation's highest court struck down the abortion protections enshrined in the 1973 Roe v Wade decision and left it up to states to make their own laws on access to the procedure. Dozens of states, including Texas and Georgia, have imposed bans or new restrictions.
The new leave and travel benefits can be accessed when a service member or his or her dependent needs to access abortion services or fertility treatment out of state. The policy is designed to prevent commanders from delaying leave approvals by taking such steps as requiring troops to undergo medical tests or speak with a chaplain.
"We're going to have to go after those commanders who do the bad thing, just like we go after toxic commanders," the unidentified defense official said.
Troops also are given up to 20 weeks, rather than the previous limit of two weeks, to inform their commanders of a pregnancy. Those who choose to delay notification can be placed on light-duty and non-deployable status by a military health care provider, without their condition being disclosed to their commander. However, when a pregnancy is discovered in pre-deployment testing, troops who don't plan to abort their baby must notify their commander immediately.
A Pentagon study found that 56.2% of women service members who have an unwanted pregnancy didn't use birth control at the time they conceived.
You can share this story on social media: