NY Times accused of anti-trans 'editorial bias'
The paper defended its reporting against claims of fear-mongering and disinformation on trans issues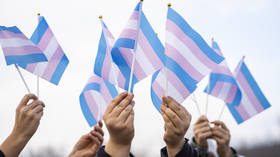 The New York Times is woefully biased in its coverage of transgender issues, according to two open letters signed by hundreds of journalists, celebrities, LGBTQ activists, and advocacy groups and submitted to the US newspaper on Wednesday.
One group, comprised primarily of Times contributors, confessed they had "serious concerns about editorial bias in the newspaper's reporting on transgender, non-binary and gender nonconforming people." The group complains that the paper covered the subjects "with an eerily familiar mix of pseudoscience and euphemistic, charged language" in their letter to the paper's associate managing editor for standards, Philip Corbett.
An article on students' differing gender presentation at home and at school was said to have "misframed" the issue, while a lengthy piece on children questioning their gender identities supposedly "vilifie[d] transness as a disease to be feared" because the writer used the term "patient zero" to refer to a gender-dysphoric child.
These articles, according to the letter writers, harken back to a darker age in the Times' history characterized by headlines such as 'Growth of Overt Homosexuality in City Provokes Wide Concern' and scare stories about HIV-positive predators deliberately infecting others. They blamed the Times' "poor editorial judgment" for recent legislative efforts to restrict access to gender-affirming procedures for children, arguing that its status as "paper of record" was helping transphobes in their quest to "criminaliz[e] gender-affirming care."
The Times isn't just hurting trans kids with its thoughtless platforming of transphobic ideas and their advocates, another open letter published on Wednesday argued – it's hurting its own reputation.
"Spreading inaccurate and harmful misinformation about transgender people and issues" is "damaging to the paper's credibility," the missive warned, carrying the endorsement of over 130 LGBTQ advocacy groups, activists, and celebrities, among them GLAAD, the Human Rights Campaign, producer Judd Apatow, and actress Lena Dunham.
To remedy the issue, the Times should hold a "meeting with transgender community members and leaders," hire at least two "trans writers and editors, full time on your staff" in both opinion and news sections, and cease printing "biased anti-trans stories," the letter declares.
Times spokesperson Charlie Stadtlander defended the paper's trans coverage, insisting in a statement to NPR that the stories the letter writers took issue with had been reported "deeply and empathetically" and represented just a fraction of the paper's writing on the subject.
You can share this story on social media: