FBI searched Biden's alma mater in hunt for classified docs
The University of Delaware was searched twice amid a federal probe into the suspected mishandling of secret documents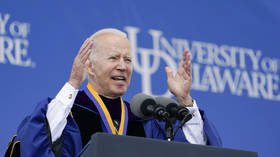 The FBI has carried out two searches at the University of Delaware as part of its investigation into President Joe Biden's handling of classified documents, multiple news outlets report. The school is the fourth location to be searched by federal agents since classified material was found in an office previously used by the president last November.
The searches were conducted on two separate days sometime in recent weeks, and were performed "with the consent and cooperation of the president's legal team," CNN reported on Wednesday, citing a source familiar with the investigation. Fox News and the Associated Press later corroborated the report, also citing unnamed sources.
Though material retrieved from the two locations did not appear to bear classified markings, federal agents are still reviewing the documents, the sources said.
Biden studied at the University of Delaware before obtaining a law degree from Syracuse University, and in 2011, donated a large trove of records to the school from his 36 years in the US Senate. The papers arrived at the university's library the following year, and under the terms of the donation are supposed to remain sealed until two years after Biden retires from public office.
While Biden's Senate documents would not be subject to restrictions under the Presidential Records Act – which regulates how such files must be managed after presidents leave office – the standard rules for classified material would still apply.
The president's legal team first discovered classified records at a private office he previously kept in Washington, DC last November, but only disclosed the find publicly on January 9 – well after the midterm election. The FBI was informed of the documents soon after they were found, however, and proceeded to search multiple locations linked to the president, including Biden's private homes in Wilmington and Rehoboth Beach, Delaware, where additional classified material would turn up in December and again in January.
The discoveries prompted Attorney General Merrick Garland to appoint a special counsel to probe Biden's handling of classified records last month, with former US attorney Robert Hur tapped to determine how the documents wound up in Biden's possession. Hur is also leading a similar investigation into former President Donald Trump, who was also found to possess classified papers at his Mar-a-Lago resort in Florida last year.
The FBI also searched the home of ex-Vice President Mike Pence last week after his legal team volunteered that they had found a small trove of documents with classified markings. According to an adviser to Pence, one other document marked classified was found in the search.
You can share this story on social media: