Armenia offers peace to Türkiye – FM 
Yerevan says it is ready to "normalize relations" with Ankara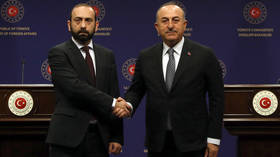 Armenia is ready to restore peace in the region and fully normalize relations with Türkiye, its Foreign Minister Ararat Mirzoyan said in Ankara on Wednesday. The two neighbors have struggled to define their relationship since Armenia declared independence in the 1990s.
"At this difficult time for Türkiye, I would like to reiterate our readiness to restore peace in the region, as well as to fully normalize relations with Türkiye in order to establish diplomatic relations," Mirzoyan said after meeting with his Turkish counterpart Mevlut Cavusoglu.
Yerevan's top diplomat was referring to last week's catastrophic earthquakes, which have claimed over 41,000 lives, with many more feared dead under the rubble.
"I would like to express my condolences to those who died as a result of these earthquakes and a speedy recovery to the injured," Mirzoyan added, according to TASS. "We survived the earthquake in 1988, and we really know the pain that Türkiye and its people are now experiencing. Such natural disasters are a tragedy for all mankind, and we need to show solidarity in order to fight humanitarian crises in such situations."
While Türkiye recognized Armenia's independence from the Soviet Union in 1991, the two neighbors never established diplomatic relations. A major bone of contention has been the disagreement on characterizing the mass murder of ethnic Armenians by the Ottoman Empire, with the Turkish republic rejecting the Armenian claim it was a genocide.
Ankara closed its border with Armenia in 1993, in solidarity with Azerbaijan in the conflict over Nagorno-Karabakh. Azerbaijan's successful offensive against the Armenian-majority region in 2020 had Turkish military support.
A 2009 attempt to establish diplomatic relations resulted in normalization protocols, but the Turkish and Armenian legislatures never ratified them. With Moscow's mediation, the two countries reopened normalization talks in December 2021.
You can share this story on social media: