Elon Musk hints Twitter will go to the dogs
The billionaire revealed he hopes to appoint a CEO for the social media platform by the end of 2023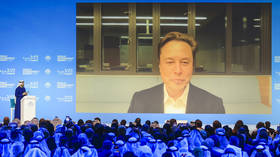 Twitter owner Elon Musk plans to find a successor to serve as the CEO of the social media behemoth by the end of 2023, he told an audience at the Dubai World Government Summit on Wednesday via video link. The billionaire accompanied the news with a burst of tweets showing a dog in a suit as "Twitter's new CEO."
The bespectacled pooch was shown seated at a desk with copious paperwork displaying the Twitter logo and a paw print "signature" above the name "Floki." Musk boasted that his replacement was "amazing" and "so much better than that other guy," apparently referring to himself.
The dog is also "great with numbers" and has "[fire emoji] style," the SpaceX CEO tweeted, adding that the canine was "perfect for the job."
Musk has not dropped any further hints as to who he plans to tap to run Twitter, a company he recently acknowledged had to be saved from "bankruptcy" after he purchased it for $44 billion in October.
"Twitter still has challenges, but is now trending to breakeven [sic] if we keep at it," Musk tweeted earlier this month, adding that "public support is much appreciated."
The billionaire's acquisition of the platform was followed by the firing or resignation of half its staff, including CEO Parag Agrawal. Since then, Musk has supervised the release of internal communications appearing to show a pattern of government-directed ideological censorship targeting so-called "disinformation" that included conservative political content and credentialed scientists opining on the Covid-19 pandemic.
You can share this story on social media: