Separatist militants parade captured pilot
New Zealand aviator Phillip Mehrtens was taken prisoner last week after landing in a restive Indonesian province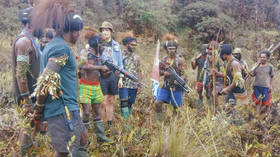 Footage of New Zealand pilot Philip Mehrtens, captured by the separatist West Papua Liberation Army in Indonesia's contested Papua province earlier this month, was released on Tuesday and shows him surrounded by heavily armed rebels.
Sebby Sambom, a spokesman for the armed wing of the United Liberation Movement for West Papua (ULMWP), published the images, which included footage purporting to show Mehrtens' single-engine Susi Air plane on fire. Other footage features Mehrtens surrounded by what appear to be rebel fighters who are issuing his kidnappers' demands while armed with semiautomatic rifles, spears, and bows and arrows.
The Christchurch native will not be released until Papua is given independence from Indonesia, rebel leader Egianus Kogoya said in a statement accompanying the images. The ULMWP's president, Benny Wenda, said last week that Mehrtens would be freed in exchange for the removal of Indonesian troops from the province, a UN investigation into alleged human rights violations, an independence referendum, and the cancelation of the "Special Autonomy" status the province currently enjoys.
However, Jakarta has refused to budge, insisting that the conflict-stricken region will "forever remain a legitimate part" of Indonesia.
Mehrtens was reportedly abducted by members of the West Papua National Liberation Army earlier this month after landing his commercial charter flight at Paro Airport in the province's remote Nduga regency. His crew – five native Papuans – were said to be released unharmed.
Sambom at the time reassured The Telegraph that the pilot was being treated "humanely" and would be kept alive. Mehrtens is supposedly being held two days' walk from the landing strip where he was taken prisoner, while the Indonesian government is said to be searching the region for him using helicopters and cameras.
Sambom said that while his group would not negotiate with the "enemy" government of Indonesia, it would speak directly to the New Zealand and Australian governments about releasing Mehrtens. Failing that, Sambom said the pilot would be kept on to train West Papuan youth on how to fly.
The Free Papua Movement has long sought independence and has a history of taking hostages. Indeed, Mehrtens was supposed to pick up 15 construction workers who had been threatened by the rebels after they were sent to Paro to build a health center.
You can share this story on social media: