Kiev plotting Chernobyl 'provocation' – Moscow
Ukraine and its backers want to accuse Moscow of causing radiation contamination, the Defense Ministry has said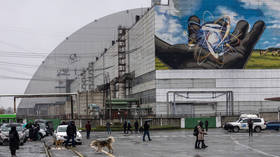 Kiev and its Western supporters are planning to accuse Russia of contaminating parts of Ukraine with radiation from the Chernobyl exclusion zone, the Defense Ministry in Moscow has warned. Norway was named as one of the alleged co-conspirators.
A statement from the ministry on Tuesday asserted that Kiev will accuse the Russian military of breaching safety protocols when it controlled the Chernobyl nuclear power plant last year. It will be claimed that Russian troops spread radioactive materials across Ukraine and looted the containment and control facilities, the ministry added.
The Chernobyl site, infamous for the 1986 disaster, was under Russian control between February 24 and April 28. In September, the International Atomic Energy Agency (IAEA) reported on nuclear safety in Ukraine, detailing its visits to the exclusion zone amid the armed conflict.
The UN nuclear watchdog confirmed that despite some damage to equipment, Ukrainian personnel had maintained "the holistic security integrity of all major nuclear facilities." While workers could not rotate for longer periods during the Russian presence, and had some additional exposure to radiation, "no health effects would be expected to be observed," the report stated.
The IAEA also addressed Kiev's claim of looting by "marauders" at the Chernobyl site. It assessed that the alleged incidents "did not pose a significant radiological risk" since "all activities involving the handling of radioactive material were stopped" under Russian control.
According to the Russian Defense Ministry, the accusations against Moscow will form part of a publicity campaign by Kiev to sway global public opinion in its favor next week, when the Russian military operation is set to enter its second year. The claims will be based on falsified or misleading evidence, the statement said. It added that Norwegian nuclear safety experts were involved in assessing the supposed radiation contamination of Kiev Region.
Ingar Amundsen, the head of the Norwegian Radiation Protection Authority (DSA), confirmed that the agency had deployed specialists to Chernobyl to assess the situation on the ground.
"Some radioactive dust was stirred up as a result of [Russian troops] driving into contaminated areas," he told the Dagbladet newspaper, adding that there were "no registered health and environmental consequences."
He denied that the DSA was involved in any scientific malpractice in Ukraine.
You can share this story on social media: