Trump wants firing squads and televised executions – Rolling Stone
While the former president's team called the report "fake news," Trump is a firm proponent of the death penalty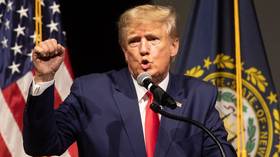 Former President Donald Trump has discussed the possibility of broadcasting the execution of groups of violent criminals to deter would-be offenders, Rolling Stone reported on Tuesday. Although Trump's campaign called the report "ridiculous," Trump has previously demanded swift trials and capital punishment for drug dealers and pedophiles.
Prior to announcing his 2024 presidential campaign in November, Trump asked some of his associates about the possibility of executing criminals by firing squad, hanging, and guillotine, the left-wing magazine claimed, citing "people familiar with the situation."
Trump also discussed whether criminals could be executed in groups, and "mused about the possibility" of creating a government-funded ad campaign that would show footage from these executions, the article continued.
"The [former] president believes this would help put the fear of God into violent criminals," one of the sources said. A former White House official told the magazine that Trump was big on the idea of executing large numbers of drug dealers and drug lords, and would argue that "'These people don't care about anything,' and that they run their drug empire and their deals from prison anyways, and then they get back out on the street…and keep committing crimes. Therefore, they need to be eradicated, not jailed."
A Trump spokesman wrote the article off as "more ridiculous and fake news from idiots who have no idea what they're talking about." The spokesman added that "either these people are fabricating lies out of thin air, or Rolling Stone is allowing themselves to be duped by these morons."
Nevertheless, Trump has been a capital punishment advocate for more than a decade, declaring in 2012 that "perverts" who abduct children should face a "fast trial, [and the] death penalty." He called for a similar fate for people who murder police officers in 2020, and praised China for executing drug dealers, stating that the country has "very little, if any" problems with drugs as a result.
Thirteen federal inmates were put to death during Trump's administration, while only three executions took place between 1963 and 2020. State executions are more common, with between eight and 39 death sentences carried out in state facilities every year since 2013. All of the Trump-era executions were performed by lethal injection, although a number of states allow for use of the electric chair or firing squads.
You can share this story on social media: