Serbians back nonexistent Kosovo 'proposal' – survey
A poll shows that most favor a French-German plan – but oppose its key demands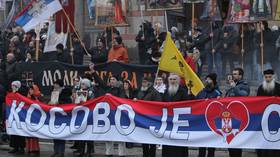 A new poll published on Tuesday showed that 57% of Serbians favor accepting a proposal floated by Paris and Berlin. The only catch is that respondents said that the proposal can't involve recognizing the breakaway province of Kosovo as independent or giving it a seat in the UN – which it does.
While the misleading topline made headlines across the pro-Western press in Belgrade, the rest of the poll showed no change in Serbia's position on the breakaway province. Asked if they would support the proposal if it included de facto recognition and the UN seat – as it does – 80% said no and only 9% were in favor.
When asked if they knew what was in the proposal, only 21% said yes, while 61% of respondents said no. The pollster, Faktor Plus, based its findings on a survey of 1,100 respondents.
NATO took control of Kosovo in 1999, after months of bombing Serbia on behalf of an ethnic Albanian insurgency. The provisional government in Pristina declared independence in 2008, with Western support. Backed by Russia and China, Belgrade has so far managed to resist pressure to recognize the province.
The EU has openly demanded recognition of Kosovo as a prerequisite for further negotiations on Serbia joining the bloc, however, along with "harmonization" of Belgrade's foreign policy with that of Brussels, in particular when it comes to sanctioning Russia.
French and German diplomats presented President Aleksandar Vucic last month with a plan to "normalize relations" with Pristina. When Vucic brought it up in the parliament, the chamber erupted into fisticuffs amid cries of "treason" and "capitulation." Vucic vowed to stay true to the Serbian constitution, which includes Kosovo in the preamble.
Serbia is well aware of its national interests, which are "not subject to negotiation," Russian Foreign Ministry spokeswoman Maria Zakharova said on Monday, adding that Moscow was keenly aware of the pressure the West was putting on Belgrade.
Russia's position on Kosovo was "principled and unchanged," Moscow's ambassador in Belgrade tweeted on Monday, denouncing "a series of twisted representations of my words by some experts and media outlets" suggesting otherwise. The only just and durable solution would be based on the UN Security Council Resolution 1244 – which guarantees Serbia's sovereignty over Kosovo – and be in line with international law and Belgrade's legitimate interests, said Ambassador Alexander Botsan-Kharchenko.
You can share this story on social media: