US ally wants missiles ahead of schedule
The weapons will be acquired in fiscal year 2023, Japanese Defense Minister Yasukazu Hamada has revealed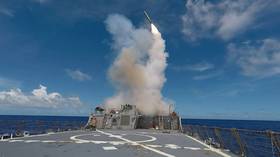 Japan will buy US-made Tomahawk cruise missiles in fiscal year 2023, much earlier than originally planned, its Defense Minister Yasukazu Hamada said on Tuesday. The statement comes as Japan aims to radically boost its military, and has looked at revising its post-World War II pacifist constitution.
Tokyo will procure "all the required quantity" in the year starting April 1, the defense minister said, as quoted by Kyodo News. Japanese media reported last year that the country was planning to acquire up to 500 missiles by fiscal year 2027.
In December, Japan approved a defense budget of $51.4 billion, the country's largest ever, which is an increase of more than 26% from the previous budget. The country's ruling parties have also advocated for Japan acquiring "counterstrike capability" amid tensions with China and North Korea.
Pyongyang has stepped up missile tests in recent years, which has rattled Tokyo. North Korea maintains that the launches were a response to US military drills in the region, which it sees as a threat.
Japanese Prime Minister Fumio Kishida is also seeking to strengthen ties with Washington, as both Japan and the US accuse China of making threatening moves around Taiwan. Beijing says the cause of the escalation is Washington's military and diplomatic aid to Taiwan.
In 2017, then-Prime Minister Shinzo Abe unveiled a plan to make the status of the country's self-defense forces more "explicit" in the 1947 constitution, which formally bans Tokyo from maintaining a standing army.
Some politicians have criticized Japan's turn to militarization. Okinawa Governor Denny Tamaki warned that obtaining weapons to "attack enemy bases placed in Japan's southwest area… strays from the purpose of the constitution."
The southwestern island of Okinawa is home to several US military bases. Local politicians and residents often hold protests near the installations, demanding their removal and citing numerous offenses committed by American troops.
You can share this story on social media: