France slams Marvel film's 'false' portrayal of its military
While the Defense Ministry said it was not trying to censor art, it insisted that no 'revisionism' be permitted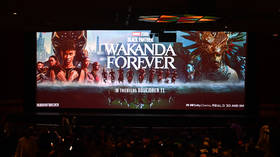 French Minister of the Armed Forces Sebastien Lecornu lashed out on Monday at Marvel Studios over what he described as the "false and deceptive" portrayal of French soldiers in 'Black Panther: Wakanda Forever.'
Lecornu specifically referenced a scene in the film that shows French soldiers storming a base of the fictional African kingdom Wakanda in Mali, where they brutalize several scientists in their attempt to steal the coveted (also fictional) mineral vibranium.
The soldiers are captured and brought as prisoners into a UN meeting where they are forced to kneel before the queen of Wakanda, who embarrasses the French ambassador in front of the international community.
The French soldiers in the film are shown wearing uniforms very similar to those worn in Operation Barkhane, France's eight-year anti-terror operation in Northern Africa. Barkhane officially concluded in November, after a change in government in Mali yielded a leader much less sympathetic to the West's regional agenda, and Burkina Faso last month also ordered French troops to leave.
Lecornu implied the scene dishonored "the 58 French soldiers who died defending Mali, at its request, in the face of Islamic terror groups."
There must be "no revisionism…allowed about France's recent actions in Mali," the Defense Ministry declared, telling the AFP: "We intervened at the country's own request to fight armed terrorist groups, far from the story told in the film, namely a French army coming to pillage natural resources."
While Lecornu was said by people close to him to be "angry at seeing the film," the ministry insisted it was not calling for censorship or for the film to be withdrawn.
France has blamed Russia for turning the governments of its former North African colonies against it after mercenaries from the Russian private military company Wagner were allegedly hired to take the place of some of the French troops previously stationed there. Russian Foreign Minister Sergey Lavrov earlier this month promised continued military support to Mali in its fight against terrorism.
You can share this story on social media: