Nord Stream blast story was 'not hard to find' – author 
Media outlets like the NYT and WaPo "don't seem to have anyone inside" among their sources, Seymour Hersh claims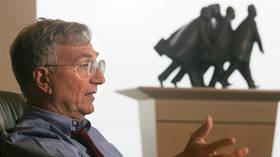 Legendary investigative journalist Seymour Hersh claimed on Saturday that his latest bombshell report, which suggests the CIA was responsible for the destruction of the Nord Stream pipelines in September, was not a hard story to find. It was obvious that there was more to the issue than was being reported by most media outlets, Hersh said.
In his first interview since he published the story on Substack last Wednesday, the Pulitzer-prize winning journalist was asked by Radio War Nerd to comment on his source for the story, who still remains anonymous.
Hersh refused to expose any details about who he spoke to and noted that it was his job to protect his sources and take the heat when a story went live. But those within the media who criticize him for using anonymous sources should "understand the business a little better," the journalist suggested.
"The problem is, it's all been cheapened. Because now the New York Times and the Washington Post think an unnamed source can be a press guy, a press secretary, that whispers something to them on the side. I don't know, they don't seem to have anyone inside," Hersh said.
He also noted that major news outlets are failing to report a lot of things about the ongoing conflict between Moscow and Kiev. "The war I know about is not the war you're reading about," Hersh observed.
"It's amazing to me how they fall in line, my colleagues," he added, lamenting that many outlets such as the NYT, WP, CNN and MSN have become a front for the White House and the Biden administration.
As for the Nord Stream expose, Hersh insisted it was "not a hard story to find" and that it was obvious that some NATO country was involved, especially after top US officials, including President Joe Biden, issued clear threats that the Russian-German project would be stopped "one way or another" if Moscow chose to send troops to Ukraine back in February 2022.
Hersh also pointed out that the entire international pipeline industry knew "who did what" and that this was a reality that "nobody thinks about." "But I did, so there you are," he concluded.
The White House, as well as officials from the CIA and State Department, have all vehemently dismissed Hersh's report since it was published. Moscow, meanwhile, has called for an open international investigation into the attack, saying it was "impossible to leave this without finding the perpetrators and punishing them."
You can share this story on social media: