Academic responds to 'mass suicide' outrage
Dr. Yusuke Narita says his suggestion that the elderly kill themselves was "taken out of context"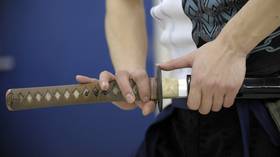 Yale University professor Yusuke Narita has retracted his claim that old people in Japan should commit mass suicide to solve the country's problem of a rapidly aging society.
Narita suggested what he said was the "only solution" to the crisis during an appearance on a Japanese YouTube news show back in 2021. "In the end, isn't it mass suicide and mass 'seppuku' of the elderly?" he said, referring to the practice of ritual disembowelment performed by dishonored samurai between the 17th and 19th centuries.
His comments went largely unnoticed until they surfaced online last month and were quoted in a New York Times article on Sunday. The Times revealed Narita's long history of promoting suicide, including his suggestion to a group of students last year that people could simply throw themselves off cliffs, and an interview in which he said that "making [euthanasia] mandatory" will one day "come up in discussion."
According to last year's data, Japan had the highest senior population ratio in the world, with almost 30% of its people being over the age of 65. The country also has one of the lowest birth rates and the highest public debt in the developed world.
The Times did not directly endorse Narita's "solution," but noted that his comments may open the door "to much-needed political conversations about pension reform and changes to social welfare," and that a majority of the Japanese public supports legalizing voluntary euthanasia.
In the West, however, the damage was done. Spectator contributing editor Stephen Miller declared that the "American press is rapidly on their way to endorsing…euthanasia," as hundreds of outraged comments piled up under a tweet by the Times promoting the story. Narita's fellow academics and writers accused him of being "irresponsible" and inciting "hatred toward the vulnerable."
In a response to the newspaper, Narita said that his words were "taken out of context," and that he wasn't talking about old people in general, being "primarily concerned with the phenomenon in Japan, where the same tycoons continue to dominate the worlds of politics, traditional industries, and media/entertainment/journalism for many years."
Phrases such as "mass suicide" and "mass seppuku" were just "an abstract metaphor," he insisted, adding that he already made a decision stop using such terms altogether last year.
In January, the Japanese government released data for the number of suicides in the country in 2022. It revealed that 21,584 people took their lives last year, which was 577 more than in 2021.
"The rise in men in their 40s through 60s, as well as pensioners or those who are unemployed, stands out," a health ministry official said as he commented on the figures.
You can share this story on social media: