Report alleges grim scale of child abuse by clergy in EU state
An independent committee examined misconduct allegations in Portugal from 1950 onwards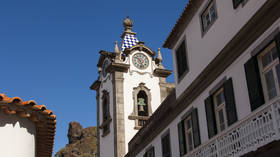 Almost 5,000 children have suffered sexual abuse by members of the Portuguese Catholic Church over the last 70 years, according to a report released on Monday.
The Independent Committee for the Study of Child Abuse in the Catholic Church, which was set up over a year ago to look into alleged offenses committed by the Portuguese clergy, said that 512 victims had come forward. The commission examined cases dating from 1950 onward.
Psychiatrist Pedro Strecht, who headed the panel, estimated that the total number of those who had suffered abuse could be more than 4,815, although he did not elaborate on how that figure had been reached.
"It is not possible to quantify the total number of child victims," Strecht said, adding that any contact with the panel had been voluntary.
On average, victims were 11 years old, with most of them allegedly abused more than once. According to sociologist Ana Nunes de Almeida, 58% of the victims were male. Of the alleged abusers, 96% are said to be male, with 77% being priests. Strecht noted that among other locations, offenses allegedly took place in Catholic schools, at priests' homes, and in confessionals.
The commission has no plans to publish the names of the victims or alleged abusers. However, the report includes a confidential annex of all the names of the clergy reported to the panel, which was shared with the Portuguese Bishops Conference and the police.
While the statute of limitations has expired on most of the alleged cases, 25 files were still sent to prosecutors.
Bishop Jose Ornelas said that the Portuguese Church would need time to study the report before giving an official response, but added that "we have seen and heard things we cannot ignore."
In recent years, the Catholic Church has been beset by sexual abuse scandals and claims that senior clergy have attempted to cover up offenses. In 2021, a commission investigating sexual misconduct cases found that since 1950, members of the French clergy have abused some 216,000 children, with around 3,000 priests and others allegedly involved.
The same year, Pope Francis changed the Catholic Church's laws to explicitly criminalize sexual abuse, in a bid to "reduce the number of cases in which the... penalty was left to the discretion of authorities."
You can share this story on social media: