Archbishop pressured over same-sex marriage – media
Justin Welby was reportedly threatened with parliamentary action after raising concerns over recent Church of England reforms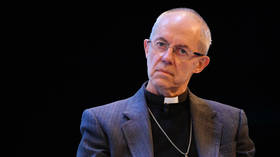 The archbishop of Canterbury claims that he received threats from MPs amid an attempt to push through same-sex marriage in the Church of England. His words were reported by several media outlets after speaking at a global Anglican Consultative Council meeting in Ghana on Sunday. Earlier, the church's legislative assembly, the General Synod, passed a reform allowing priests to bless same-sex couples in civil partnerships, but maintained the ban on same-sex marriage.
The reform was personally announced by Archbishop Justin Welby last week, as he noted the Church's "history of antisemitism, racism, slavery and collusion with evils of power." During the announcement, he expressed support for the blessing of gay couples, but said he would not personally conduct such ceremonies due to his obligations to the global Anglican Communion movement.
Last month, the Church of England published a formal apology to the LGBTQ community for its previous "hostile and homophobic response" to same-sex couples, saying it repents for the "shameful" behavior.
According to media reports, while in Ghana, Welby said he was essentially pressured into supporting the move, claiming that "many" members of the Synod had been dismissive of his concerns about the reforms and their impact on those abroad in the Anglican Communion.
He added that the concerns he raised during discussions about sexuality resulted in him being summoned to the British Parliament on two accounts, and "threatened with parliamentary action to force same-sex marriage on us, called in England equal marriage."
Welby has been heavily criticized for the reforms by many conservative churches within the Anglican Communion, and some have openly questioned his fitness to be its ceremonial leader.
But the archbishop insisted during his speech in Ghana that he does not have that much power within the Synod. "Remember, in the Church of England, Archbishops do not chair the General Synod and do not organize its business and debates," he said, as quoted by the media.
The Church of England has also been deliberating the abolishment of gendered references to God from scriptures and services. Liberal Christians insist that the description of God as a man is a "theological misreading" and have called for "more inclusive language" in the church's authorized liturgy.
You can share this story on social media: