US shoots down another 'airborne object' over its territory
The incident comes after Washington accused Beijing of using balloons for espionage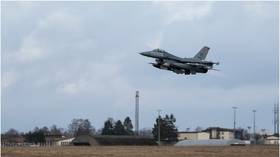 A US F-16 fighter jet shot down "an airborne object" over Lake Huron in Michigan on Sunday, the North American Aerospace Defense Command (NORAD) said. It is the fourth such downing in eight days and follows accusations from Washington that China flew a "surveillance" balloon over its territory.
According to NORAD, the object was traveling at 20,000 feet (6,096 meters) and was first picked up by radar over Montana when it flew "in proximity to sensitive DOD sites." Montana is home to many of the country's missile silos. NORAD also said that the object posed a threat to civil aviation.
We did not assess it to be a kinetic military threat to anything on the ground, but assess it was a safety flight hazard and a threat due to its potential surveillance capabilities.
On February 4, the US shot down a Chinese balloon off the coast of South Carolina after it had traveled for eight days across the US. American officials were later quoted as saying that equipment capable of collecting intelligence from the ground was found in the balloon's debris.
Beijing rejected the spying allegations and claimed that the balloon was a meteorological device that had veered off course and entered US airspace by accident. The Chinese Foreign Ministry said the accusations were part of "information warfare" against the country.
US aircraft shot down a second "high-altitude object" off the northern coast of Alaska on Friday and then a third one on Saturday over northern Canada.
On Friday, the US blacklisted six Chinese entities it said were connected to "the People's Liberation Army's (PLA) aerospace programs including airships and balloons."
You can share this story on social media: