Hungary slams EU push to arm Ukraine
Such policies "have generally caused damage to Europe," the foreign minister says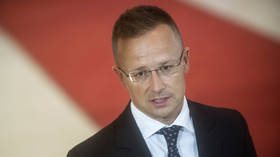 The European Union's calls to keep supporting Ukraine with arms shipments will only prolong the conflict with Russia, the Hungarian foreign minister said on Sunday.
Speaking to radio Kossuth, Peter Szijjarto commented on recent remarks by the President of the European Parliament, Roberta Metsola, who pushed for fighter jets and long-range weapons to be sent to Kiev. According to the minister, EU lawmakers' decisions on Ukraine "have generally caused damage to Europe," and further weapons deliveries will only worsen the hostilities.
He went on to blast the EU legislature, claiming that its "credibility is practically zero." Szijjarto pointed to a recent graft scandal as proof that the EU parliament is "one of the most corrupt organizations in the world."
He was referring to the recent arrest of the parliament's former vice president, Eva Kaili, who has been charged with taking bribes from Qatar in exchange for illegally lobbying the interests of the Gulf state.
Szijjarto noted that in Western countries, war rhetoric sounds "incomparably louder than the rhetoric of peace," while nations outside "the transatlantic bubble" tend to prefer peace to a deadly conflict.
The minister went on to question the West's anti-Russia sanctions. He argued that they have failed to force Moscow to end the conflict, while Europe's economy has "faced incredible difficulties," and that "the tenth sanctions package will only be suitable for causing further damage to us Europeans, similar to the previous nine ones."
Since the start of large-scale hostilities in Ukraine almost a year ago, Hungary, which is heavily dependent on Russian energy, has been critical of Western sanctions against Moscow. It has also refused to support Kiev with weapons, or allow arms transfers across its border with Ukraine.
You can share this story on social media: