UK has secret plans for EU – Bloomberg
London is quietly planning to boost cooperation with Brussels on issues of defense, migration and the economy, officials told the agency.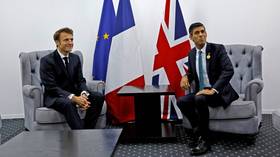 British Prime Minister Rishi Sunak has privately asked members of his cabinet to work out ways of rebuilding connections with the EU that had been severed after Brexit in 2020, government sources have told Bloomberg.
Plans are currently being put together at 10 Downing Street to boost ties between London and Brussels in such areas as defense, migration and the economy, including trade, energy and international standards, the agency reported on Saturday.
According to British ministers, diplomats and officials, who all spoke on condition of anonymity, the rapprochement is being prepared in order to compensate for the fallout of the conflict between Russia and Ukraine, in which London positions itself among the prime backers of the Kiev authorities.
In the coming days, Sunak's government is hoping to announce a solution to the longstanding dispute with the EU over post-Brexit trading arrangements for Northern Ireland. London's plan is to capitalize on this development and make it the basis for further improving ties with the 27-member bloc.
Bloomberg pointed out that the PM risks angering anti-EU lawmakers from his ruling Conservative Party. He also faces an uphill battle to overcome skepticism in Brussels, where leaders resent British politicians who used the bloc as a "punch bag for their domestic audience" since the Brexit vote in 2016, it added.
One of the sources assured Bloomberg that the alleged turn towards Europe didn't mean that Brexit was a mistake but was merely a reflection of the changing geopolitical situation.
According to another official, Sunak's subordinates were able to persuade the Prime Minister, who has been in office since late October, that in "a more dangerous world, of rising authoritarianism and protectionism," closer cooperation with allies was absolutely essential for the UK.
Achieving this would require Britain to give up on its "madman strategy" of resisting the EU, in favor of a stable relationship with the bloc as critical friends, he said. By standing together, London and Brussels would be able to withstand economic turbulence and threats posed by Russia and China more effectively, the source explained.
You can share this story on social media: