McDonald's withdraws 'tasteless' advert near crematorium
It was feared that the 'McCrispy' advertisement would upset grieving families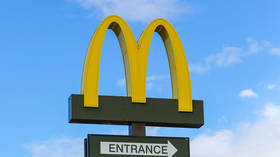 McDonald's has apologized after an advertisement for the fast-food chain's 'McCrispy' burger was placed close to a crematorium in the UK – although some locals did see the funny side.
The restaurant chain has pledged to remove the offending advertising hoarding following complaints from residents of Truro in the UK county of Cornwall. It had gained attention on social media on Friday for being placed on a busy road directly opposite an establishment which offers cremation services.
The brightly lit advert, which was placed directly behind a sign pointing to the crematorium, was branded as "tasteless" by some angry locals.
"Although I can see the funny side, it is tasteless and I'm sure some grieving family members won't like to see it when visiting Penmount for the funeral and cremation of a loved one," said a resident whose mother-in-law was cremated at the funeral home last year, as quoted by British media.
My brother in law, got cremated. He would find this very funny!!! 😂

— CSP (@SmileyWon) February 11, 2023
When I die I am get McCrispied!

— The Only Kate worth even considering. (@KateronaBiscuit) February 11, 2023
However, not everyone was quite so offended by the unfortunate placement of the advertisement, with one noting that a person's reaction to it would likely be influenced by "how long ago you followed the crematorium sign wearing a black tie."
One person said they "fell off the chair laughing" when they spotted the advert online, while it was also noted by another local that it was "no worse" than the council's decision to entertain the idea of allowing a crematorium to be built "next door to a retirement village."
A statement issued by McDonald's was published by local media on Friday soon after an image of the advertisement went viral online, in which the restaurant chain said it would remove the advert as soon as possible. "We were unaware of the road sign in the vicinity of this bus stop. However, in light of the concerns raised by CornwallLive, we have asked for our advertisement to be removed," the fast-food brand said.
Cornwall Council, which operates both the crematorium and the bus shelter which displays the advert, declined the comment on the furor when contacted by local media.
You can share this story on social media: