US tech giant to lay off fifth of workforce
Yahoo will cut 1,600 jobs in its advertising technology division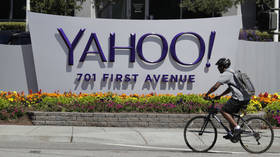 IT giant Yahoo is planning to lay off around 20% of its staff, it was reported on Friday. The decision comes amid similar redundancies at other Big Tech companies.
The cuts concern Yahoo's ad tech division and will affect more than half of the department, CEO Jim Lanzone confirmed to Axios. He claimed the decision was "tremendously beneficial for profitability" and was not motivated by financial concerns. "The moves are meant to simplify and strengthen the good parts of the business, while sunsetting the rest," Lanzone added.
Yahoo was once a household name when it came to search engines, and was considered one of the pioneers of the early internet era. However, the company now provides various online services such as email and news.
The CEO of media relations company EZPR, Ed Zitron, discussed the recent Big Tech layoffs in his blog in January. Zitron argued that IT companies "chose to blame thousands of people for a problem that was specifically created by their execs… responsible for unrealistic projections, unrealistic spending, and unrealistic hiring."
Early 2023 has already seen mass redundancies at multiple tech firms. That includes Yahoo rival Google, which cut 12,000 jobs. Facebook parent company Meta is laying off 11,000 people, which is around 13% of its total staff.
Elsewhere, Big Tech juggernaut Microsoft has announced the termination of 10,000 positions.
You can share this story on social media: