Church of England will bless gay civil unions
The church recently issued an apology to LGBTQ people for the 'hostile and homophobic response' it once gave them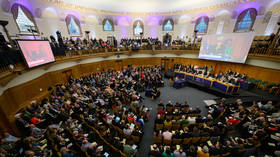 The Church of England will offer blessings to same-sex civil unions after its General Synod voted in favor of the measure, its two leaders, the Archbishops of Canterbury and York, announced on Thursday.
"For the first time, the Church of England will publicly, unreservedly and joyfully welcome same-sex couples in church," the archbishops said in a statement, while conceding that "the church continues to have deep differences on these questions." They insisted the Church was "committed to respecting" those "for whom this goes too far."
The body debated for over eight hours on the measure, initially introduced last month, before reaching its decision, with 250 votes in favor and 181 against. An amendment emphasizing that the move does not represent a divergence from existing Church doctrine, which does not permit same-sex marriage, was added during the process.
Archbishop of York Stephen Cottrell stressed that "no one has to offer these services and no one will be disadvantaged if they don't," according to the BBC.
Bishops announced the result with a call for proposals for same-sex blessings, which will be outlined in a publication titled 'Prayers of Love and Faith' to be issued by the House of Bishops later this year after some editing. Their use will be monitored for the next five years, the Church said. Same-sex couples will still not be able to actually get married in the church, which upset those hoping for full equality under religious law.
The Synod's compromise "falls short of what we ultimately believe is the only outcome for radical inclusion - equal marriage for all people," chair of the Church's Campaign for Equal Marriage Nigel Pietroni told The Guardian.
The Evangelical Council lamented that the Church had rejected its "historical and biblical understanding of sex and marriage," arguing the vote had "settled nothing and has only served to deepen divisions." The Global South Fellowship of Anglican Churches also skewered the Archbishop of Canterbury, Justin Welby, and questioned his "fitness to lead."
The Church of England last month published a formal apology to the LGBTQ community for its previous "hostile and homophobic response" to same-sex couples, saying it repents for the "shameful" behavior.
House of Commons leader Penny Mordaunt wrote to the bishops last month urging "parishes and clergy to conduct weddings for same-sex couples, or at a minimum, authorize blessings."
You can share this story on social media: