Joe Rogan accused of anti-Semitism
The podcast host claimed that "Jews are into money" like "Italians are into pizza"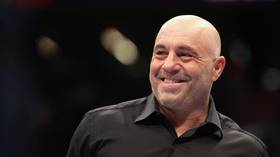 Joe Rogan has been accused of spreading "flippant anti-Semitism," after he defended US Representative Ilhan Omar's criticism of the role of money in the US-Israel relationship. The idea that Jewish people "aren't into money" is "f**king stupid," the podcast host argued.
Speaking to journalists Krystal Ball and Saagar Enjeti in the latest episode of his podcast on Saturday, Rogan condemned Republicans for kicking Omar off the House Foreign Affairs Committee over a 2019 statement about Israel. At the time, Omar said that American support for Israel was "all about the Benjamins, baby."
Although Omar apologized, Rogan said she shouldn't have.
"She's apologizing for talking about 'it's all about the Benjamins,' which is just about money, she's talking about money," he said. "That's not an anti-Semitic statement. I don't think that is. The idea that Jewish people are not into money is ridiculous, that's like saying that Italians aren't into pizza. It's f**king stupid."
Ball agreed, saying that Omar shouldn't have apologized and that donor money is "a very obvious reason why… there's been a uniparty consensus vis-a-vis the Israeli government" in Washington.
However, Rogan's comments triggered a wave of condemnation online. American Jewish Committee CEO and former Congressman Ted Deutch accused Rogan of invoking "the same tropes that have been used to persecute Jews for centuries," warning him that "it's dangerous to be so flippant in trafficking in anti-Semitic stereotypes."
"Saying Jews are 'into money' is erasing our history," the 'Combat Antisemitism Movement' added, while Jewish author David Baddiel called the stereotype a "racist myth."
"Unless my history lessons really missed something out, no-one has exterminated a large section of the entire Italian community because of their love for pepperoni," Baddiel quipped.
Joe Rogan has been at the center of numerous controversies in recent years, ranging from outrage over his past use of racial slurs to his promotion of ivermectin as a treatment for Covid-19. More recently, Rogan spoke out against the portrayal of the Ukrainian government and military as "heroes," when the media previously talked "about [the] massive corruption of Ukraine and how horrible it was over there."
You can share this story on social media: