Death toll of Türkiye-Syria quakes rises to 6,700+
Rescue operations are now a "race against time," says the World Health Organization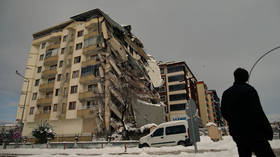 The number of confirmed deaths from the 7.7 magnitude earthquake that devastated Türkiye and Syria keeps rising as rescuers dig through the rubble. On Tuesday evening, Ankara and Damascus listed a total of 6,706 dead and 36,259 injured.
"At the moment, we have 5,894 dead and 34,810 injured," Turkish Vice President Fuat Oktay told reporters late on Tuesday.
President Recep Tayyip Erdogan has declared a seven-day mourning period for the victims of the disaster, which he called the worst since the 1939 Erzincan earthquake. Erdogan has also declared a state of emergency in the ten regions most affected, which will go on for at least three months.
The Syrian government reported at least 812 fatalities and 1,449 injuries. Unconfirmed reports from territories held by anti-government militants spoke of even more casualties.
Rescue crews were working round the clock to dig possible survivors out from under the rubble. Local and state authorities were also struggling to provide shelter from the cold to residents whose homes have been destroyed.
Tedros Adhanom Ghebreyesus, director-general of the World Health Organization, said the rescue operations were "now a race against time" and that the chance of finding more survivors diminishes with every passing hour. The WHO was dispatching crews and supplies to the affected area.
Many countries have offered assistance with the rescue efforts. Russia has sent over a hundred emergency response specialists, who will work around the clock in the affected areas. Syria has had a more difficult time than Türkiye, however, due to the sanctions imposed by the US and EU.
The Syrian government has appealed for help to the UN and other international organizations, including the International Committee of the Red Cross. Meanwhile, the Lebanon-based Middle East Council of Churches has called for the sanctions to be lifted immediately, lest they become "a crime against humanity."
A 7.7 magnitude quake struck the Pazarcik district of Türkiye's Kahramanmaras Province shortly after 4 am local time on Monday. The aftershocks in Gaziantep Province came in at magnitudes of 6.4 and 6.5, respectively.
You can share this story on social media: