Fires and clashes break out at French protest (VIDEOS)
Police fired tear gas at a group of "troublemakers" in the city of Rennes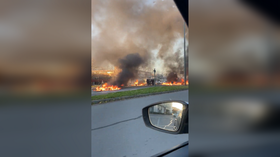 A protest against government pension reforms turned violent in the French city of Rennes on Tuesday, as riot police used tear gas to dispel a group of around 200 demonstrators who had built barricades and pelted officers with fireworks. Tens of thousands of people also took part in strikes and protests across the country.
The strikes and marches were a repeat of last month's protests, which saw around 1.2 million people take to the streets of France's major cities, according to figures from the French Interior Ministry. The latest demonstrations come as the parliament debates President Emmanuel Macron's proposed pension reform bill, which would see the retirement age hiked from 62 to 64.
In the northwestern city of Rennes, "around 200 individuals" refused to disperse after the end of a planned parade, and began facing off against police officers, city officials told TF1. City authorities urged the demonstrators to leave the scene and "dissociate themselves from the troublemakers," but the group erected barricades which they then set on fire.
As protesters lobbed fireworks at police, the officers responded with tear gas. A water cannon was used on the crowd, TF1 reported.
Some 13 people were arrested and one police officer was injured, city officials said. Fires could be seen throughout the city after the gathering was finally dispersed, with smoke rising into the sky near St. Pierre's Cathedral in the city center.
Around 400,000 people marched in Paris, the left-wing CGT trade union said. However, the union reported similar turnout at a march last month, while the Interior Ministry put attendance at 80,000. The demonstration in Paris was described as "peaceful" and "festive" by French media.
You can share this story on social media: