Iran reveals underground air force base
Built in an unknown location, the 'Eagle 44' site can launch fighter jets and drones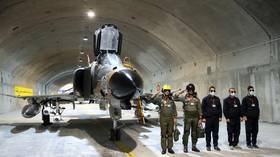 The Iranian Army unveiled a new underground air base on Tuesday. Situated in an undisclosed mountainous location, the base is impervious to bombing and can service, fuel, arm, and launch fighter jets, bombers, and drones.
Video footage of the 'Oqab 44' (Eagle 44) facility was shown on Iranian state media, featuring what appears to be an F-4 Phantom fighter-bomber emerging from behind blast doors, before taxiing through a wide tunnel and taking off from an external runway.
The base is equipped with command posts, hangars, maintenance sites, fuel depots, and navigation equipment, Iran's IRNA news agency reported. The Iranian military has constructed several such sites across the country, IRNA added, noting that while their locations remain a secret, all are built "under the mountains."
Iran on Tuesday unveiled its first underground air force base, called "Eagle 44", the country's official news agency IRNA reported."It is one of the army's most important air force bases, with fighters equipped with long-range cruise missiles and built in the depths of earth." pic.twitter.com/KACSXkljyc

— Iran International English (@IranIntl_En) February 7, 2023
Footage from one of these bases – a drone site named 'Strategic UAV Base 313' – was revealed by the Iranian military last year. However, 'Eagle 44' is the Islamic Republic's first underground base capable of hosting fighters and bombers that has been publicly revealed.
"Any attack on Iran from our enemies, including Israel, will see a response from our many air force bases including Eagle 44," Iranian Armed Forces Chief of Staff Mohammad Bagheri told reporters during a visit to the base on Tuesday.
The unveiling of the base comes at a time of increased tension between Iran and Israel, with Tehran blaming the Israeli military for a drone strike on a military site in the city of Isfahan last month. While Israel neither confirmed or denied its involvement, media reports claimed the attack was masterminded in West Jerusalem, while Ukrainian officials cryptically suggested that the strike was somehow connected to Iran's alleged supply of 'kamikaze' drones to Russia.
Moscow and Tehran have both denied that Iranian drones are being used in Ukraine, with the Kremlin stating that it uses domestically-made UAVs to target Ukrainian military and infrastructure targets.
You can share this story on social media: