Ban on Russian media protects 'freedom of expression' – Borrell 
Moscow is using "manipulation and interference as a crucial instrument," the EU's top diplomat claimed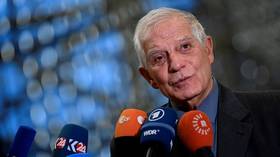 The EU's crusade against Russian media does not seek to curb free speech but in fact pursues the opposite goal, the bloc's top diplomat, Josep Borrell, said on Tuesday. His remarks triggered criticism from Moscow, with Foreign Ministry spokeswoman Maria Zakharova saying that Russia viewed the media crackdown as a sign of dictatorship.
Speaking at a conference dedicated to the EU's response to foreign disinformation, Borrell said that the sanctions on Russian media "effectively banned them from operating" within the bloc.
"In doing that, we are not attacking the freedom of expression, we are just protecting the freedom of expression," he argued.
Borrell also noted that the EU is trying to support those media organizations that Russia has classified as 'foreign agents', a designation meaning that an entity is either funded from abroad or is under "foreign influence."
"What I'm saying is not just rhetoric. I cannot go into detail, but believe me, we try to support them in practical terms," he said, adding that he would not say how in order not to do them "a bad favor."
In an attempt to defend the EU's media policies, Borrell claimed that Russia is using "manipulation and interference as a crucial instrument" in the Ukraine conflict. In light of this, the diplomat said that the EU would launch a platform, the Information Sharing and Analysis Center, to combat falsehoods.
"We need to understand how these disinformation campaigns are organized ... to identify the actors of the manipulation," he stressed.
Commenting on Borrell's remarks, Zakharova stated that in the past Moscow regarded the media crackdown as "a manifestation of liberal dictatorship." But the way the diplomat described these policies in his latest speech made them "sparkle with fresh colors with a shade of delusion," she added.
In recent years, the EU has unleashed a campaign against Russian media which only intensified when Moscow launched its military operation in Ukraine in February 2022. In March, the EU suspended the broadcasting activities of Sputnik and RT, with the number of blacklisted channels only growing in the following months as the bloc introduced new sanctions against Russia.
You can share this story on social media: