BBC apologizes for guest's claim about J.K. Rowling
The broadcaster said its host should have done more to confront a guest who accused the Harry Potter author of transphobia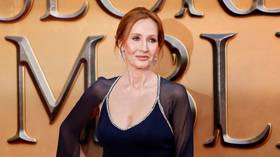 The BBC has apologized for its host not sufficiently challenging a guest's claim that Harry Potter author J.K. Rowling was spreading transphobic views. The statement came after listeners complained about last week's show on BBC Radio 4, which featured Stacey Henley – a trans woman and editor-in-chief of the website TheGamer.
On Thursday, Henley accused Rowling of "transphobia" and of waging a "campaign against trans people."
Host Evan Davis replied: "Obviously, J.K. Rowling ... wouldn't say she's transphobic."
Davis and Henley were discussing the upcoming video game 'Hogwarts Legacy', which some fans vowed to boycott because of Rowling's views.
According to the Daily Mail, the BBC received more than 100 complaints over the host's conduct during the interview. Davis said the criticism was "fair." He wrote on Twitter shortly after the show that he should have made it clearer that the guest's opinion was her own and was "heavily contested."
In a statement on Monday, the BBC acknowledged that "there wasn't sufficient challenge to the claims that were made and that we fell short here."

"This is a difficult and contentious area which we do try very hard to cover fairly and well on the BBC," the statement read. "However we should have challenged Stacey Henley more directly on her claims and apologize that we did not."
More than 500 million Harry Potter books have been sold worldwide since the first novel was published in 1997. The franchise spurred a series of successful movies and games.

In recent years, Rowling has come under fire from activists, who call her a "trans-exclusionary radical feminist." In a 2020 blog post, the author argued that allowing transgender people to use women's bathrooms and changing rooms would make them "less safe" for biological women and girls. She also said that some of the language pushed by the transgender community was "dehumanizing and demeaning" to women.
You can share this story on social media: