Top Republican donors drop hint over 2024 presidential race
Charles Koch's financial network is eager to find a GOP candidate who can "turn the page on the past"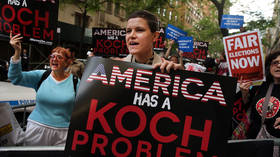 Americans for Prosperity (AFP), the prodigious Republican fundraising network built by billionaires Charles and David Koch, has hinted it won't be supporting former US President Donald Trump in the party's 2024 primary in a memo sent to staff and associates on Sunday.
"To write a new chapter for our country, we need to turn the page on the past," CEO Emily Seidel wrote, condemning Washington's "broken politics" for "producing a toxic situation" that has made it "impossible to see the kind of progress on public policy… that Americans need."
"The best thing for the country would be to have a president in 2025 who represents a new chapter," the memo continues, arguing the case for getting involved "earlier and in more primaries" in order to ensure "better candidates" are running. Seidel stressed the importance of setting the tone of the race with a presidential candidate "who can lead our country forward, and who can win."
The American people have shown that they're ready to move on, and so AFP will help them do that.
While Charles and his late brother David Koch have long been considered conservative kingmakers, their friction with Trump is not a recent development. They famously sat out the 2016 presidential election rather than back the unconventional candidate, content to merely pack his cabinet with their people after his surprise victory.
The network spent nearly $80 million on the 2022 midterm elections, according to election transparency group OpenSecrets, pouring funds into 22 federal and almost 200 state primaries. The memo did not reveal how much they were considering spending in 2024.
While Trump is the only Republican to officially square off against incumbent Democrat Joe Biden in 2024, several former members of his administration, including ex-National Security Advisor John Bolton and Koch-linked former Secretary of State Mike Pompeo, have put out presidential feelers through superPACs and media appearances.
Trump's former UN ambassador, Nikki Haley, is expected to announce her candidacy later this month, while the Koch-adjacent group Club for Growth appears to be marshaling behind Florida Governor Ron DeSantis, whom some polls have already put ahead of Trump in a hypothetical 2024 primary match.
You can share this story on social media: