US congressman accused of sexual harassment 
The scandal-plagued Republican has already been accused of fabricating his life story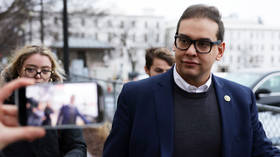 A former aide to Congressman George Santos has filed a complaint against the embattled freshman, accusing him of sexual misconduct. The Republican politician is already in the middle of an Ethics Committee investigation for a range of apparent lies.
Derek J. Myers, 30, announced on Twitter on Friday that he had requested an investigation by the Congressional Ethics Committee into Santos' behavior, accusing him of sexual harassment. He also filed a police report with the US Capitol Police.
Myers, who is also a journalist, said he was looking to be hired as a staffer in January and was offered a position in the congressman's office. He claims he was a "volunteer performing staff duties with the promise of employment and compensation," but had his job offer rescinded after several days of unpaid work.
He alleged that Santos, who is gay, made improper advances during his short stint working for him. The most damning accusation from Myers is that Santos groped the young staffer while the two were reviewing mail.
"The Congressman proceeded to take his hand and move it down my leg into my inner thigh and proceeded to touch my groin," he claims. Santos then allegedly invited the young man over to his home, saying his husband was "out of town" that night.
Myers said that these accusations should "not be litigated on social media or through news media," adding that he tweeted the contents of the complaint for the sake of transparency.
The congressman's office told news site Semafor that it had decided against hiring Myers upon learning he had faced wiretapping charges in Ohio a year earlier.
Santos has been under intense scrutiny after a New York Times exposé in December revealed the politician lied about his resume. The lies included claims that he is descended from Ukrainian Jews fleeing the Holocaust, despite his family being Catholic Brazilians, and having a college degree, despite never actually graduating from any college.
Santos has admitted to many of the inaccuracies, calling them "embellishments" in a New York Post interview that same month. The dishonesty has drawn the ire of both political parties and led to a House Ethics Committee investigation. US House Speaker Kevin McCarthy told reporters in January that Santos would be removed from office if the probe finds him guilty.
You can share this story on social media: