Twitter looks to charge business accounts – media
Brands wishing to keep their verification checkmarks may have to pay a hefty fee, internal documents seen by The Information show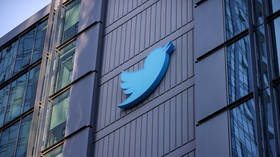 Twitter is reportedly planning to charge businesses over $1,000 per month to retain their gold verification checkmark badges, The Information news outlet reported on Saturday. This comes as owner Elon Musk continues exploring revenue streams for the social media platform.
According to internal messages seen by the outlet, businesses that refuse to pay the fee will lose their gold badges along with their verified status. If they do choose to pay, they will also have to fork out an additional $50 a month for each of their affiliated accounts. However, these pricing schemes are still not finalized and have yet to be officially published, the outlet notes.
Nevertheless, it seems that some businesses have already been pitched the offer. Social media consultant Matt Navarra tweeted a screenshot last week of an alleged email exchange between a Twitter product manager and an unnamed business in which the former informed the company owner that early access subscribers to the Verification for Organizations program, which was launched last month, receive gold checkmarks and special affiliation badges for their associates. However, they will have to pay if they wish to keep them.
The product manager then proceeded to explain that Verified for Organizations will cost $1,000 per month and $50 per additional affiliated handle per month, with one month of free affiliations. The affiliate feature allows businesses to add badges showing miniature versions of their Twitter profile pictures to accounts belonging to employees, executives, and other personnel associated with the company.
When Musk acquired the social media website back in October for $44 billion, he announced he would be exploring new ways to make Twitter profitable and help get it out of its $12.5 billion in debt. One of his first suggestions in that regard, aside from laying off nearly half of the company's staff, was to have all users pay an $8 a month subscription fee for the coveted blue checkmark indicating a verified account.
The blue checkmark system was initially only used to verify notable profiles of celebrities, journalists and those related to government. In November, however, Musk rolled out a new verification system with different colored badges for different types of accounts. Officials and government accounts received a free gray checkmark, individuals were given the original blue one, and businesses and companies a gold one.
You can share this story on social media: