Major blaze hits Buddhist temple in Australia (VIDEO)
Dozens of firefighters have been deployed to the popular place of worship in Melbourne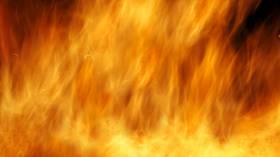 A Buddhist temple in Melbourne, Australia was completely engulfed by a major fire on Sunday evening that eyewitnesses said turned into a real "inferno."
Some three dozen fire trucks and around 150 firefighters were deployed to the scene to contain the blaze, according to Daily Mail. Australia's ABC News put the number of firefighters at 80.
Photos and videos published on social media show the temple complex alight, with massive flames rising above its roof and a column of thick black smoke billowing into the evening sky over the area. According to several media reports, smoke from the two-story building was seen as far as 15km away.
The temple is located in Melbourne's southeastern suburb of Springvale and was a popular landmark and place of worship for thousands of local Buddhists. Local residents were urged to stay inside and close all doors and windows. People were also asked to keep the roads clear for emergency vehicles and to avoid site of the fire.
Firefighters were called to the temple at around 20:00 local time, according to the Victoria Fire Rescue service. It took them around three hours to bring the blaze under control, according to ABC News.
"The whole street was just covered with all emergency services," a local resident, Cody Cardoso, told the news media outlet. "When I saw the temple it was just completely engulfed in flames, basically an inferno."
Although the emergency services characterized the blaze as being "under control," locals were still advised to monitor the situation closely and keep their doors and windows shut.
You can share this story on social media: