Iran pardons 'tens of thousands' of convicts – media
Iranians sentenced for participating in mass protests were among those granted amnesty by the supreme leader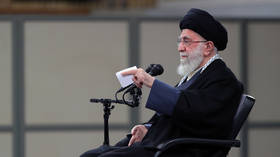 Iran's supreme leader, Ayatollah Seyyed Ali Khamenei, has agreed to grant amnesty to "tens of thousands" of prisoners, among which are people convicted for their role in the recent protests and riots, state media reported on Sunday.
The move coincided with the 44th anniversary of the Iranian Islamic Revolution, which is celebrated in Iran between February 1 and 11.
Those who participated in the protests and riots could have their sentences reduced or be pardoned altogether, as long as they were not accused of espionage, contacting foreign intelligence agents, did not damage state property, and did not injure or kill anyone during the riots, state news agency IRNA said.
Khamenei reportedly approved a request for the pardons that had been made by Iran's Judiciary Chief Gholam Hossein Mohseni-Ejei. The supreme leader regularly issues similar verdicts on occasion of various religious festivities.
The exact number of those covered by the amnesty has not been revealed, but IRNA reported "tens of thousands" could be pardoned. It is also unclear how many of those were convicted over participation in the protests.
Iran experienced months of protests and riots sparked by the death of a young woman, Mahsa Amini, in police custody in September. Amini was arrested for wearing an "inappropriate" hijab and died in police custody hours later. Her family insisted that she was beaten to death while the Iranian authorities said she died due to a medical condition.
The US, EU and some other nations accused Tehran of a violent crackdown on the protesters and imposed a series of sanctions against Iran. The EU Parliament adopted a resolution last month calling on Brussels and EU member states to blacklist the Islamic Revolutionary Guard Corps as a terrorist organization.
The move sparked an angry reaction in Tehran, with the Iranian parliament warning the EU that if it did so, Iran would retaliate by declaring all EU armies as terrorist organizations.
Iran also denied claims that Amini's death was the result of police brutality and has insisted that the unrest in the country was incited from abroad. Washington and Brussels used the protests as an excuse to impose additional sanctions and stir up social tensions in Iran, Tehran said.
You can share this story on social media: