Tucker Carlson and Boris Johnson exchange jabs
The Fox News host branded the former UK prime minister "a terrified old woman"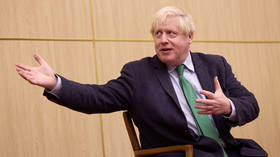 A war of words has broken out between Tucker Carlson and Boris Johnson, with the Fox News host claiming that the former British prime minister was a "coward" for refusing to come to his show to answer questions about his stance on the conflict in Ukraine.
Johnson was the one who delivered the first blow in the exchange, claiming on Wednesday that Carlson was infecting his Republican viewers with "bad ideas" through his criticism of Washington's involvement in the conflict between Moscow and Kiev.
"Has anybody heard of Tucker Carlson? What is it with this guy? All these wonderful Republicans seem somehow intimidated by his perspective," he said during a panel discussion with the Atlantic Council.
The former PM, who is currently on an American tour as a speaker, said he hadn't watched any of Carlson's programs, but was "struck" by how often the name of the TV personality had been mentioned in conversations he had in the US.
"I've been amazed and horrified by how many people are frightened of a guy called Tucker Carlson," Johnson said.
The Fox News host fired back at the British politician during his show on Thursday. According to Carlson, he was "shocked" by Johnson's comments because – shortly before making them – the ex-PM had been invited to his program to defend his stance on Ukraine, but had refused to come.
Johnson grilled "cowards" in Washington that were afraid of his show, "yet somehow he never mentioned he was one of them," the conservative pundit stated.
"We knew that Johnson himself was a coward. We watched during Covid as he transitioned into a terrified old woman, but we had no idea he was also a liar. We should've known," Carlson concluded.
"We knew that Johnson himself was a coward, but we had no idea he was a liar."Boris Johnson has pissed off Tucker Carlson, the guy that thinks M&M's are sexy, by not going on his show. pic.twitter.com/CCKmpQWHVf

— PoliticsJOE (@PoliticsJOE_UK) February 2, 2023
Johnson, who resigned as PM in September after a series of scandals in his cabinet, had been among the most passionate backers of the Kiev government and had insisted on a military solution to the conflict. Some reports suggest he was instrumental in derailing the peace talks between Russia and Ukraine last March.
Carlson, on the other hand, has never hesitated to attack the Biden administration's policy on Ukraine, arguing that the billions that the US had given Kiev could be better spent on fixing problems in America and warning that Ukrainian President Vladimir Zelensky was trying to drag the US into a direct military confrontation with Russia.
You can share this story on social media: