Germany 'open' to idea West behind Nord Stream sabotage – The Times
Investigators reportedly have not ruled out the possibility that a Western nation was responsible for the blasts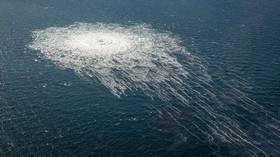 German officials are "open to theories" that the sabotage of the Nord Stream undersea pipelines was carried out by a Western nation "with the aim of blaming it on Russia," The Times reported.
In an article published on Wednesday, the British newspaper described the mystery of who was behind the attacks as "one of the biggest questions of the 21st century."
The two pipelines, each of which has two strings, were damaged by explosions in late September. Germany, the recipient of Russian natural gas, for which the undersea energy routes were built, as well as Sweden and Denmark, in whose territorial waters the damage was done, are each running a separate investigation.
Citing European officials, the Times said a failure to provide transparency in the probes risks encouraging "dangerous conspiracy theories" and "wild speculations."
"This was a major infrastructure attack. It's strange that we've heard very little," an unidentified Western analyst was quoted as saying.
The German investigation is thought to have made little progress and is "yet to uncover any compelling evidence" pointing to Russia, The Times said, adding that Berlin is "open to theories that a Western state carried out the bombing with the aim of blaming it on Russia."
It noted that 23 diplomatic and intelligence officials across nine Western nations had also told the Washington Post recently that they had yet to see evidence implicating Russia and some said they did not believe Moscow was the culprit.
Following the blasts, however, Kiev and some of its most-vocal backers were quick to assign blame on Russia, claiming that it damaged its own infrastructure to put pressure on the EU.
Mikhail Podoliak, an aide to Ukrainian President Vladimir Zelensky, explained the apparent irrationality of such a move, telling The Times that Moscow "relies on actions which are illogical but that it believes will intimidate."
The Russian government described the sabotage as a "terrorist attack" and said that the US was the nation that benefited most from it, by speeding up Europe's attempts to wean itself off Russian gas.
US Under Secretary of State for Political Affairs Victoria Nuland declared that she was "gratified" with the destruction of the Nord Stream 2 project during a Congressional hearing last week. Responding to the remark, Russian Foreign Minister Sergey Lavrov said on Thursday that the US diplomat had essentially "confessed" Washington was behind the sabotage.
You can share this story on social media: