US Navy ends 'gruesome' experiments
Animal rights group PETA claimed that sheep suffered severe pain and paralysis in "scientifically worthless" decompression tests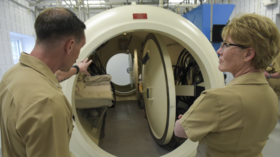 The US Navy has stopped commissioning decompression sickness experiments on sheep that allegedly subjected the animals to horrible pain and injuries, including paralysis and cardiovascular collapse, People for the Ethical Treatment of Animals (PETA) has said.
The animal rights group claimed a victory on Wednesday, saying the tests were halted as much as two years ahead of schedule amid lobbying efforts and legal action. The experiments were done at the University of Wisconsin-Madison under a $389,000 grant from the Navy. "It's a victory that will prevent more sheep from being abused in horribly painful tests," the group said of the halt.
However, a Navy spokesperson told Military.com that the experiments had ended after the contract for the project came to its "natural conclusion." The university said that both the Navy and scientists involved in the program decided last year not to continue the contracted tests.
The experiments were designed to help the Navy study ways to rescue sailors trapped in sunken submarines. According to PETA, sheep were put in chambers to simulate the pressure felt in a sub deep underwater, as well as that while surfacing quickly.
"Experimenters exposed sheep to nearly eight atmospheres of pressure in hyperbaric chambers for 30 minutes, then forced them to decompress, during which time they likely endured… crippling joint pain, seizures, nausea, paralysis, vomiting, burning, and deep chest pain," the group said in a letter last June to Secretary of the Navy Carlos Del Toro. The letter was co-signed by a retired rear admiral, Dr. Marion Balsam, who commanded a naval hospital.
Sheep also were injected with a "substance of interest," PETA said. The animals that survived the experiments were killed and dissected. "These tests are scientifically worthless and fall far short of international standards," PETA vice president Shalin Gala told Military.com.
Balsam and PETA research associate Samuel Pons claimed that animal experiments are ineffective in replicating what happens to humans with decompression sickness because of physiological differences, insisting that human cells and data from divers can be more useful in predicting symptoms and risk factors for decompression sickness.
You can share this story on social media: