Biggest strike in decade hits UK
Over half a million workers are set to walk off the job in sectors including education, transport, and public offices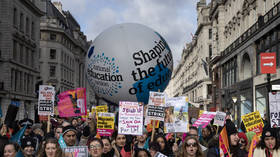 The largest strike in the UK in over a decade began on Wednesday as more than half a million workers walked off the job to protest pay rises that fail to keep pace with inflation, pension issues, and brutal working conditions.
While the length and intensity of the strikes vary by industry, participants planned to walk out en masse in a show of solidarity. These include 300,000 teachers from England and Wales' National Education Union, who claim to have seen their real-terms pay slashed by 23% or more since 2010, two Scottish teachers' unions, and 70,000 university workers. Also striking are 100,000 train and bus drivers and 100,000 civil servants hailing from over 100 departments, from coastguards to the Department of Work and Pensions.
The failure of pay rises to keep pace with the cost of living is a primary driver of the unrest, with inflation continuing at near-record highs across the UK, despite officials' promises to rein it in. While average public sector pay excluding bonuses rose 2.7% between August and October and private sector pay increased 6.9% during that period, inflation exceeded 10%, leaving most workers earning effectively less than they had been.
In addition to work-related issues, strikers are protesting a bill passed Tuesday in the House of Commons that aimed to prevent strikes by mandating minimum levels of service in certain sectors including health services, fire and rescue services, education, transportation, nuclear waste management, and border security. Employees in those trades who did not work when required on a strike day could be fired – a measure the Trades Union Congress has called "wrong, unworkable, and almost certainly illegal."
The bill was drawn up amid December's historic strike by National Health Service ambulance drivers and nurses, whose grievances include critical personnel shortages that they claim make their jobs dangerous and put patients' lives at risk. The demonstration was the largest ever staged by the Royal College of Nursing.
A government spokesperson defended its actions on Wednesday to CNBC as merely an "extensive contingency plan" meant to "mitigate any disruption caused" by the protest actions.
Wednesday's demonstration is to be the largest since 2011, when over a million workers took to the streets in a dispute over public sector pay.
You can share this story on social media: