Hungary explains army reform amid 'anti-NATO' criticism
Sacking hundreds of veteran officers is a path to meritocracy, the defense minister claims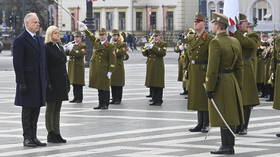 A massive overhaul of the Hungarian military officers' corps is not driven by any secret agenda, and will trim a bloated leadership, the country's defense minister has claimed. Kristof Szalay-Bobrovniczky was responding to critics who have accused him of purging officers considered disloyal, and distancing the country from NATO.
In an interview with Bloomberg, published on Tuesday the minister confirmed his reforms will see Budapest sack hundreds of senior officers but denied claims he is pursuing a political agenda.
"You can't have hidden agendas when doing things on this scale," Szalay-Bobrovniczky said. "I want to introduce meritocracy and competition in the defense forces."
Last month, Hungary simplified the retirement process for some military personnel. Under the new rules staff who reach the age of 45 and have at least 25 years of active service can be sacked by the defense minister with two months' notice.
The change sparked speculation that the government of Prime Minister Viktor Orban was planning a "purge" in favor of its loyalists. Agnes Vadai, a former Defense Ministry state secretary, claimed during a TV interview that it would result in a "de-NATOfication" of the Hungarian army.
Orban stands in contrast to other leaders of NATO states with his refusal to arm Ukraine against Russia, and has called for a diplomatic resolution of the conflict in the neighbouring country.
The news outlet Telex has claimed that between 100 and 200 officers will be sacked, while noting the difficulty of contacting sources in the military leadership, willing to offer details. Rumors among troops were split over the nature of the reform, the report added. The defense minister told Bloomberg that the exact number of forced retirements would be revealed in February.
Szalay-Bobrovniczky told Bloomberg that his department's plan was benefiting younger, physically fitter, multilingual officers, who have on-hand experience gained in NATO missions. It went in line with Budapest's decade-long roadmap to phase out older Soviet-designed weapon systems and procure modern Western arms, he added.
Hungary wants to have partnerships with leading European arms producers to launch manufacturing on its soil, the minister said. It will be "not only for the needs of the Hungarian defense forces, but also for international sales," Szalay-Bobrovniczky explained.
You can share this story on social media: