FBI search Biden think tank for classified docs – media
Unlike the search of the president's home, the agency's visit to the office was not publicized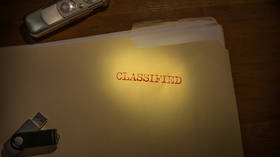 The FBI searched the offices of the Penn Biden Center for Diplomacy and Global Engagement, a think tank where US President Joe Biden kept an office in between stints in the White House, at some point in mid-November, two sources familiar with the investigation told CBS on Tuesday.
The search was reportedly consensual and followed the FBI's discovery of nearly a dozen classified documents dating from Biden's term as vice president in the office the week before the midterm election. The sources did not tell the network whether additional documents were found during the search.
While Biden's lawyers promptly announced to the public when the FBI searched his Wilmington, Delaware home earlier this month, no such announcement was made following November's search of the Washington DC think tank office, which he used intermittently from 2017 to 2019. The president's lawyers declined CBS' request for comment, as did the Justice Department and the FBI.
Authorities have seized between 25 and 30 classified documents from Biden's home and office, including some labeled top secret. The material concerns his time as vice president and his Senate career.
The investigation is being led by US Attorney John Lausch, though Attorney General Merrick Garland earlier this month appointed special counsel Robert Hur to take over the probe. White House Communications Director Kate Bedingfield told CNN earlier this month that the administration was cooperating in full with authorities.
The discovery of top-secret documents in Biden's properties followed a similar find at Trump's Mar-a-Lago estate in Florida last year, though the FBI's entry into the Trump home required a search warrant and was denounced by the former president as "unAmerican, unwarranted and unnecessary."
After classified documents were also found at former vice president Mike Pence's home earlier this month, the National Archives put out a call to the six most recent administrations pleading with them to turn over any classified documents in their possession.
You can share this story on social media: