Presidents swap stuffed lion for tractor
The Belarusian and Zimbabwean leaders have exchanged gifts during Alexander Lukashenko's visit to the African state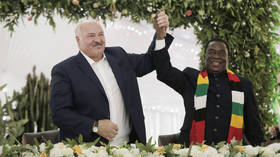 Belarusian President Alexander Lukashenko has received a stuffed lion from his Zimbabwean counterpart Emmerson Mnangagwa, in return giving the country's leader a tractor to farm his private lands. Lukashenko arrived in the African nation on Monday for a state visit.
On Tuesday, the two presidents held a ceremony in the nation's capital city of Harare to mark the transfer of Belarusian agricultural machinery to Zimbabwe. Minsk has supplied the country with multiple domestically produced Belarus-92 tractors. At the event, Lukashenko extended his "gratitude" to the collective West for the opportunity.
"I want to thank the Americans and the entire Western world for imposing sanctions on us. Otherwise, not Belarusian tractors, but American and German ones would have stood today on this huge field," Lukashenko said during the ceremony.
The Belarusian leader also gifted a Belarus-92s tractor to Mnangagwa himself, personally presenting the vehicle and handing over the keys. The Zimbabwean president is expected to use the vehicle to farm on his private property, the Belarusian presidency noted in a statement.
Mnangagwa, in turn, gifted Lukashenko a stuffed lion. The lion is expected to end up on display at the presidential palace in Minsk, according to Belarusian media.
You can share this story on social media: