Ukraine condemns Croatian president's comments on Crimea
Kiev says Zoran Milanovic's claims that the peninsula will never return to Ukraine are an affront to the country's territorial integrity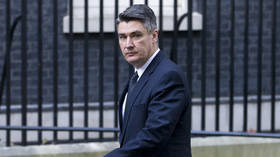 Croatian President Zoran Milanovic has elicited outrage in Kiev by suggesting that the Crimean peninsula would never again belong to Ukraine. Milanovic, who has already been featured on Kiev's Mirotvorets 'kill list', previously called the ongoing conflict in Ukraine "Armageddon" and described the West's aid to Kiev as not help, but "torture."
Writing on his Facebook account on Tuesday, Oleg Nikolenko, the spokesperson for Ukraine's Foreign Ministry, said Milanovic's comments were "unacceptable" and an affront to the country's territorial integrity. He also suggested that Milanovic would not have been able to become president of Croatia if he had used such rhetoric in the 1990's when the country fought for its independence from Yugoslavia.
Briefing reporters on Monday, Milanovic compared the issue of Crimea with the annexation of Kosovo. Although he claimed the two cases were similar in some sense, he pointed to the fact that "Serbia and Russia are not the same." He claimed that the international community illegally "stole" Kosovo from Serbia, but that they should not assume that they could treat Russia, a nuclear superpower, the same way.
"Deranged emotions and hatred are leading Europe to great danger" he said, adding that Western aid to Ukraine is not helping solve the conflict. "I am against sending any lethal weapons there. It's only prolonging the war. What's the goal? Carving up Russia? Regime change? They're talking about partitioning Russia. This is madness."
He also called the West's recent decision to send tanks and air defense systems to Ukraine "deeply immoral" and that it could ultimately trigger a third world war. "German tanks will just unite the Russians, and China. My goal is to distance ourselves [Croatia] from it, to not be circus dogs. Any kind of participation in this is deadly dangerous."
Milanovic has long been a critic of the West's approach to Russia and has claimed that it intentionally pushed Moscow to launch its military offensive in Ukraine.
The Croatian president has been listed on Ukraine's Mirotvorets website, often dubbed a 'kill list' since January 25, when he stated that Zagreb would recall its servicemen from NATO in the event of a war between Russia and Ukraine. The database still lists him as responsible for participating in humanitarian aggression against Ukraine, as well as aiding "Russian invaders" and distributing "Kremlin propaganda."
You can share this story on social media: