Trump sues legendary journalist over audiobook
The former US president has accused Bob Woodward of "systematic manipulation"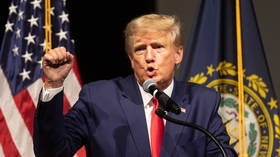 Former US President Donald Trump filed a $50-million lawsuit against journalist and author Bob Woodward on Monday, accusing him of including taped interviews in a recent audiobook without permission.
In the complaint, Trump accuses Woodward of "systematic usurpation, manipulation, and exploitation" of the recordings, which he says were "protected" under copyright and license laws.
Publishing house Simon & Schuster and its parent company, Paramount, are listed as co-defendants.
Woodward recorded a series of phone interviews with Trump during his time in office. The conversations formed the basis of the book 'Rage,' released in September 2020.
The journalist then reused the recordings for the audiobook titled 'The Trump Tapes: Bob Woodward's Twenty Interviews with President Donald Trump,' released last October. It contains more than eight hours of raw interviews Woodward conducted with Trump between 2016 and 2020, as well as author's commentary.
Trump alleges that he had consented to being interviewed for the book, but not the subsequent audiobook. "Faced with the reality that Rage was a complete and total failure, Woodward decided to exploit, usurp, and capitalize upon President Trump's voice," the lawsuit claims.
The 45th president further claims Woodward and his publisher took "extensive and unacceptable liberties" when editing the interviews and "selectively omitted" parts of Trump's responses.
In a joint statement to the media, Woodward and Simon & Schuster rejected the allegations. "All these interviews were on the record and recorded with President Trump's knowledge and agreement," the statement said. "Moreover, it is in the public interest to have this historical record in Trump's own words. We are confident that the facts and the law are in our favor."
The audiobook was released against the backdrop of the US House Select Committee's investigation of Trump's role in the storming of the Capitol building on January 6, 2021.
In November, Trump announced that he would seek another presidential term in the 2024 election. He held his first official campaign event on Saturday.
Woodward first rose to prominence in 1972, as one of the investigative reporters who first broke the story on what later became known as the Watergate scandal. The controversy led to the resignation of President Richard Nixon two years later.
Woodward has won multiple awards and authored or co-authored several political bestsellers, including books about contemporary US presidents.
You can share this story on social media: