Woman killed look-alike she found online to fake own death – police
Authorities in Germany's Bavaria believe they have now pinpointed the motive behind the stabbing of a 23-year-old last August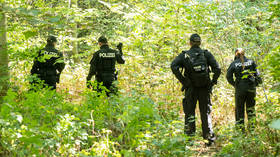 German detectives have revealed new details in a murder case that drew media attention back in August 2022, saying that it was the victim's looks that sealed her tragic fate. Authorities believe the suspect had deliberately looked for a young woman with a similar appearance to herself in order to fake her own death.
In a statement on Monday, police in the Bavarian city of Ingolstadt said that the suspect named Sharaban K had wanted to go into hiding "on account of family problems."
According to investigators, the crime was preceded by lengthy preparations, with the suspect texting multiple potential victims on various social media platforms beforehand. Sharaban's attempts to lure them to a meeting on various false pretexts had all failed until she came across beautician Khadidja M on Instagram in early August of last year, police spokesperson Andreas Aichele told the newspaper Suddeutsche Zeitung.
The official said the victim had fallen for an offer involving cosmetics.
On August 16, Sharaban and a male accomplice, Sheqir K, both 23 years old at the time of the crime – the same age as the victim – picked up the beautician. While driving back to Ingolstadt, the suspects took a turn to a nearby wood, police claim. There, Sharaban and Sheqir allegedly stabbed Khadidja more than fifty times. The suspects are believed to then have put the heavily bleeding woman back in Sharaban's Mercedes and eventually abandoned the vehicle in an Ingolstadt neighborhood.
Late that same day, police were alerted to the car, finding the woman, who, according to media reports, was still alive at the time. Paramedics, however, failed to save her. A couple from Munich – Sharaban's parents – who were looking for their missing daughter were called to the scene, and mistakenly identified the victim as her.
The German media suggest that aside from striking similarities in appearance between Khadidja and Sharaban, the fact that the woman was found in their daughter's car may have led the parents to misidentify her.
It was only the next day that the error came to light. Shortly afterward police apprehended Sharaban and Sheqir, both of whom have been in pretrial detention ever since.
However, it took the investigators months to unravel the case.
You can share this story on social media: